Anonymous whispered,
Is this (was it called Prince of Tennis?) really all that good? I'm not into sports things, but it kinda does yet kinda doesn't look like yaoi. I'm confused.I'm trying to decide whether or not I should try it out. Is at least funny?
It's not BL; it's shounen sports anime, but the fact that this is all official art: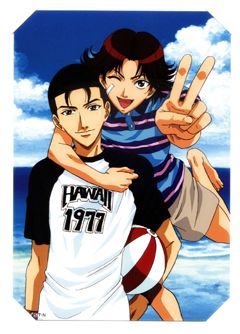 and this video (pretty crappy song, but the footage is what's important) makes it pretty clear who the target audience is, and it's not young boys ages 13-25.
It's hilarious though, and you don't have to understand tennis to enjoy it. In fact, it's probably better if you don't, because the tennis played in TeniPuri/Prince of Tennis is nothing like anything remotely physically possible.
Case in point: the first movie implies that the captain of the main team caused the extinction of the dinosaurs in some time-rift timeline-altering amazing smash. idek idek idek
You won't lose anything by giving the first 10 or so episodes a try (it's quite long, though; 175ish episodes for the first series, and then there's ShinTeniPuri going on now and the Prince of Tennis musicals which are on their 6th Seigaku cast since 2003). It's got a really well-known voice cast, and there's a ton of CDs and radio bits out there for the guys.
Plus, legitimately not lying when I say this series changed my life. If I'd never gotten into it, I wouldn't be where I am today. This series all by its lonesome is the reason I'm in Japan now. So yeah, I think it's 'all that good' :3